I love this drawing of a futanari with her cock buried throat deep into another futanari's mouth in a back alley.  The angle of the image shows her ass and the other futa sitting on the ground with her own hardon nearly bursting through her dress as her face is pressed back into the wall by the futanari thrusting her hips into her face and pressing the cock deep down her throat!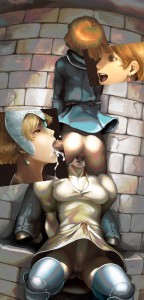 Related Posts
Futanari Street Fighter gets a rough blowjob

Futa Fan has all the Bible Black futanari porn vids

Shemale Toon Tube has the full video

ulrikbadass has mashed together a couple fetishes in this drawing including cosplay, futanari and oral sex.  The cute teen looking dickgirl wearing a fox cosplay suit is getting a blowjob and anal toying from an older woman, sexy as hell.