Cute little anime futanari self sucking her dick in blowjob action with anal beads in her ass and just the string hanging out of her puckered pooper. I hope she swallows her own cum and doesn't waste it!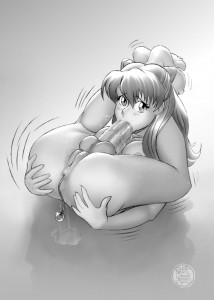 SheAniMale
Related Posts
Prince forcing futa Maleficent to her knees to suck his dick.

For the self sucking lovers here are two anime shemales sucking their own cocks to orgasm in animated gifs!

I've got an ass fetish and seeing this futa pulling anal beads out of her butt while wearing nylons got me pretty excited.  Incase is a very talented artist as you can see from the details in this futa body he created.

Futanari on all fours getting cock milked by lovers mouth while anal toy stimulates her prostate. See more like this at Dmitrys Futa

Incase has amazing imagination like this one with a futanari self sucking cock and anal fisting herself using portals to bend her body.