Lots of weird fetish ideas here but basically it is a futanari ghost with a hardon skull fucking a girl at the library.  I've always loved the idea of fucking a girls head/hair and this plays right into that fetish though I think the ghost futa is actually trying to fuck the girls brain which is kind of creepy even for me.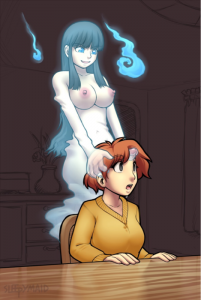 Related Posts
Two demonic futanari having sex in bed.

Wizard controls a guy and futanari as they perform sex on a bed for his pleasure, I wonder if they are aware of the awesome fucking they are doing?!

Futanari comic showing what happens when a nerdy girl with glasses fantasizes about devils and sex, you get a demon futanari that makes her suck and titty fuck then fucks her pussy with the shedevil dick!