Two futanari fucking in a public restroom, I love the cumshot onto the toilet seat as she is getting rammed in the butt by her lover.  Imagine walking into this scene as you were out shopping at the mall.. yea I'd ask to join in the sexual fun!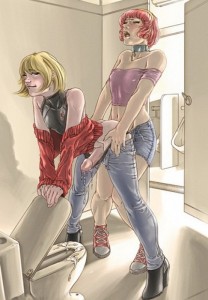 Related Posts
Two horny futanari having sex in a public restroom sitting on a toilet like dirty little whores.

Hardcore sex gif with two futanari fucking.  The hentai shemale on top is riding the bottoms dick deep into her cunt while her hard penis sprays cum in a huge arc across the screen.

I'd love to find the bathroom with this futa gloryhole, lucky bitch getting her pussy crammed with huge dick!