Amy Rose from the Sonic Games imagined as a futanari by "RandomBoobGuy".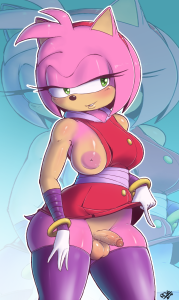 Innocent Tgirls
Related Posts
Sonics Amy Rose futa getting a blowjob and blowing her big cum load in his mouth, sexy

Amy Rose from the Sonic video game envisioned as a futanari

Futanari Amy Rose gives herself a blowjob in this pic, sliding her big cock between her own tits and sucking until she shoots a load into her own mouth, way to recycle that cum slut

Ever been playing Sonic the Hedgehog and wished that Amy Rose was a dickgirl and Sonic would fuck her until she orgasmed cum all over?  Well wish granted!

Well here is a kinky fucking gif.  For the Sonic lovers Amy Rose as a futanari getting a blowjob from a furry rabbit.  So much fetish my mind is going to explode!