Iri-neko loves to satisfy his fans doing commisions like this one with a futanari against a wall with her skirt hiked up and her ass and balls exposed from behind.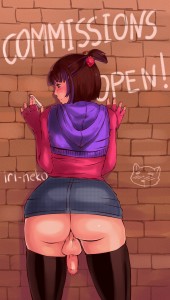 Related Posts
Every guy loves watching tennis on tv or in person for the chance that the girls short skirts fly up and you get a peek at their panty covered ass or crotch.  Now get the ultimate experience, a peek at a futanari upskirt with a thong pulled to the side…

Amazing view of an anime shemale after she cums from masturbating and bends over exposing her pink puckered butthole for you to enjoy.  I'd have no problem sticking my dick up that pretty poopshoot!

Apparently there is a Japanese game that features this cute anime shemale maid that you get to fuck in the butt and watch her cum as you control the action, but I can't translate Japanese so I hope someone can point us to the right source!