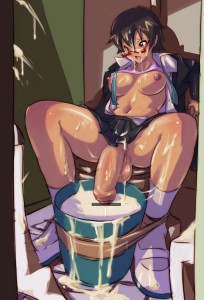 I imagine the school janitor keeps this futanari schoolgirl tied in his broom closet and milks her cock daily filling his bucket with cum cream after massaging her prostate. What do you think?
Related Posts
Futanari bound and milked by pumps

Futanari on all fours getting cock milked by lovers mouth while anal toy stimulates her prostate. See more like this at Dmitrys Futa

I'd love to have a futanari goblin in my basement to milk with a machine and look at her HUGE BALLS!!!