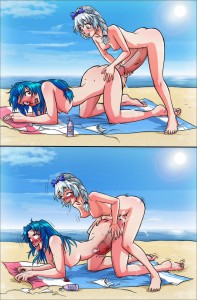 Related Posts
Vitalis has drawn some great futanari porn featuring four futas at the beach, some as hot dog vendors (ironic right) and others as lucky hard cocked tourists that get to fuck the vendors ass and squirt extra cum sauce on the hotdogs.  I love how he even drew an xray…

I need to find this BEACH with naked futanari sunbathing!!!

Boy can't handle the hardcore sex action this futanari gives him but she insists on making him into her sissy sex toy.