I'd be scared if this hentai futanari police officer showed up to a crime scene, or maybe she's a stripper and thats her costume but either way her huge tits and ripped physique is intimidating!  But I'd let her pound my ass with her thick shepenis no doubt.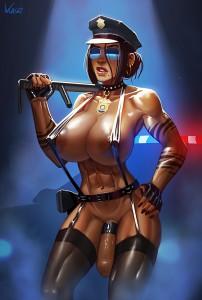 Related Posts
I found this Incase drawing and knew you guys would love it.  Featuring a dickgirl cop that has caught a guy selling drugs but instead of arresting him she has him give her a blowjob on the side of the road, who could deny a police futanari?

Redhead catches two big boob futanari cumming in the office

Big dick, pointy tits, yep you should like this.

Big dicked dickgirl sucking on her own foreskin a the beach, kinky!