Another kinky shot of a futanari nipple fucking a busty babe in bondage.  Someday I will meet a girl or futa with tits I can fuck my dick into and I will be very happy.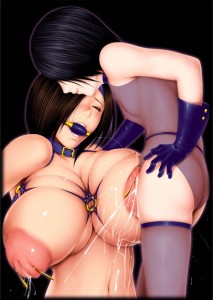 Related Posts
Love this pic of a futanari with big boobs getting one titty milked by a breast pump while some lucky guy fucks the other nipples, I think it is cool when you use your imagination and believe a nipple can have a hole big enough for my cock to fuck…

New futanari sex drawings from Vitalis featuring futa on futa fucking.  I love the second pic showing an inside view of the deep cock penetration inside her asshole while she squirts from the prostate stimulation.  See anal sex is better!

Silhouette girl has drawn a futanari I would have never thought about but for the guys with a foot fetish she might be a dream or nightmare.  This dickgirl has a huge cock and as you look down her legs both taper down into DICKS instead of feet!  probably painful…

I've never understood how nipple fucking works exactly but in theory I love the idea!  Seeing a futanari stick her big dick inside the nipple of another busty futa is amazing and Iri-neko has drawn a superb nipple fucking threesome for you to enjoy.